The People's Kitchen – August 2018
Project of the Month
The Hall Design Group's project of the month can be referred to as "the people's choice" kitchen. Given the chance to present what is desired within the kitchen today, this project would be my choice. Clean lines and "eloquence thru simplicity". The main objective was to remove the wall from the kitchen to the family room. The clients enjoy entertaining and wanted both areas to act as one. Leicht cabinetry supplied by the Hall Design Group serves as the cornerstone for the project. Mixing warm wood grain laminates with the dark anthracite accents truly work off one another. Notice how we also introduced industrial textures to accent the clean lines. This kitchen isn't all about aesthetics, however. Function was the first consideration when designing the space. The "Galley sink" was used to create an aquatic workstation that serves many purposes. Notice the large one level island, which doubles up as both a workspace and a gathering area for guests. My favorite area is the entertainment area. I brought the same materials into the family room and kept the simplistic theme. As you enter the room your eye follows a light and airy horizontal flow. Don't be deceived though, The Hall Design Group was able to have the area serve many functions such as the TV, storage for components, and a niche for art and general storage. I also wanted to save some brick from the original space which creates an extra texture in the space.
SOUS VIDE – COOKINGS BIG TREND OF THE YEAR:
Once the choice of top chefs, Sous Vide is increasingly becoming popular for today's passionate, home cook. With this method of cooking you can produce restaurant quality cooking in your home with the guidance of this French food preservation method. Sous Vide cooking is a method of cooking using precise temperature control to create consistent results. Sous Vide is defined as "cooking with the food vacuum sealed in a water bath or now with the aid of air and steam". It is a very slow and precise method of cooking used to gain maximum results. In the past, sous vide could only be prepared at some of the finest restaurants in the world, but we are now seeing many appliance manufacturers that have their ovens with a setting to allow for this method of cooking to be done at home. You can check out steam ovens by Bosch, Miele and Wolf and refer to the single wall oven by Electrolux which has an "Air Sous Vide" method to gain best results.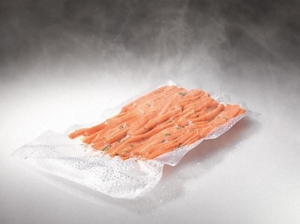 0
0
John Hall
https://kitchenedesigns.com/wp-content/uploads/2019/10/JHDI-color-logo-with-tagline-new.png
John Hall
2018-08-13 15:31:58
2018-08-13 15:31:58
The People's Kitchen – August 2018